Welcome to Hishino Onsen Tokiwakan
Tokiwakan is a quiet hot spring ryokan surrounded by the woods, in a mountain range 1,000 m above sea level.
The ryokan's special feature is that you ride a cable car up to the panoramic open-air bath, Kumonosuke, which offers a magnificent view.
The ryokan has a private cable car that covers a total distance of 130 meters leading to the mountain peak at the back of the ryokan, where the open-air bath, Kumonosuke, is located.
From the open-air bath, Kumonosuke, a panorama of beautiful landscape expands before your eyes.
In this picturesque view, you will see Mt. Tateshina and Yatsugatake, and the Okuchichibu Mountains surrounding the Sakudaira basin. Mt. Fuji can also just be seen on a clear day, though only the tip.
Access by train(Free courtesy lifts are available from the nearest station, Komoro Station, to our ryokan.)

Approx. 1 hour and 55 minutes from Tokyo
Approx. 3 hours and 35 minutes from Nagoya
Approx. 2 hours and 15 minutes from Kanazawa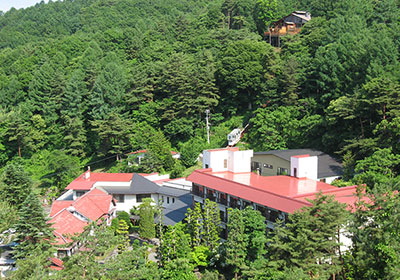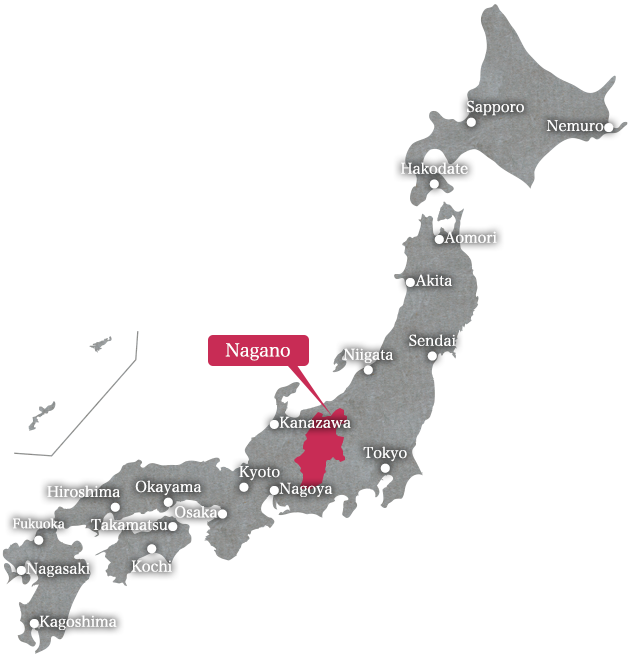 Sightseeing spots around the area
40 minutes to Karuizawa Prince Shopping Plaza (outlet mall)
25 minutes by car to the Takamine Highlands, standing at an elevation of 2,000 m
15 minutes by car to Komoro Castle ruins, Kaikoen
50 minutes by car to Ueda Castle, which is related to the Sanada Clan
10 minutes by car to some apple picking farms
20 minutes by car to a strawberry picking farm
10 minutes by car to Manns Wines Komoro Winery
Karuizawa Prince Shopping Plaza
(outlet mall)
Manns Wines Komoro Winery
Matsui Farm (Apple picking)
Komoro Castle ruins, Kaikoen